This article first appeared in James Lane Post, Nov 18, 2020, written by Ty Wenzel
There is rarely a magazine article on beautiful homes that doesn't feature at least one from the East End. Check any issue of Dwell or Architectural Digest and you will find homes featured with lush landscapes and impeccable interiors by some of the most decorated designers in the nation. Interior design often takes an education and deep love of beauty. But what if you're just born with it, with several chapters in a life injected with beauty? Enter Chris Mead, proprietor of English Country Home, the top home stager of the Hamptons, and sought-after interior designer of some of the most stunning homes in the region.
Mead has a lot of street cred as an Englishman who started out as a photographer in New York City during the glamorous post-disco 80s while also publishing coffee table books on decorating, cooking, and gardening that have been translated into five languages and has sold over 750,000 copies.
"All my life I have been lucky to have jobs other people consider hobbies," said Mead. "I was a photographer for twenty years and traveled around the world; I collected antiques, and had an antiques store for another 20 years."
His love of high-end decorating has led to a multi-level career in the field that not only has him in demand as an interior designer, but as the owner of the largest home furnishings store in the Hamptons, English Country Home in Bridgehampton, (started 40 years ago in New York City), and as the home stager of impressive homes on the local market. There is a line of mutual intent running through these professions that would exhaust anyone specializing in just one of these careers. But all three?
With two stores (Mead also owns a furnishings outlet in Southampton) and over 20,000 square feet of inventory, "we sell everything from sofas, luxury linens, lighting, fabric, wallpaper, and rugs," he explained. "If you like our style, there is instant gratification that we offer. Some clients (home owners and other interior designers) don't want to wait and can shop our stores and website (www.ecantiques.com) for a couple of days and then furnish an entire house. After choosing what they like, we will put it together in a design for you or have it delivered so that they can do it themselves."
There are many reasons to use a professional home stager in the Hamptons. Particularly for homes over $3 million, it is imperative for the homeowner to see the possibilities when making such a high-ticket purchase. Or if the home is not selling, the builder or real estate agent will stage the space which then accelerates the deal to close.
"I feel the customer should fall in love with a house when they walk through the front door; your first impression is always the most important. People see many houses when they are buying, so the more in love they are with it, the higher is the offer," Mead said. "Most high-end buyers have a decorator/interior designer, but recently with a house I staged, the owner and the decorator decided they would not achieve a better look in the lower level, than what I had designed. They purchased everything in the 2000 square foot space that I designed."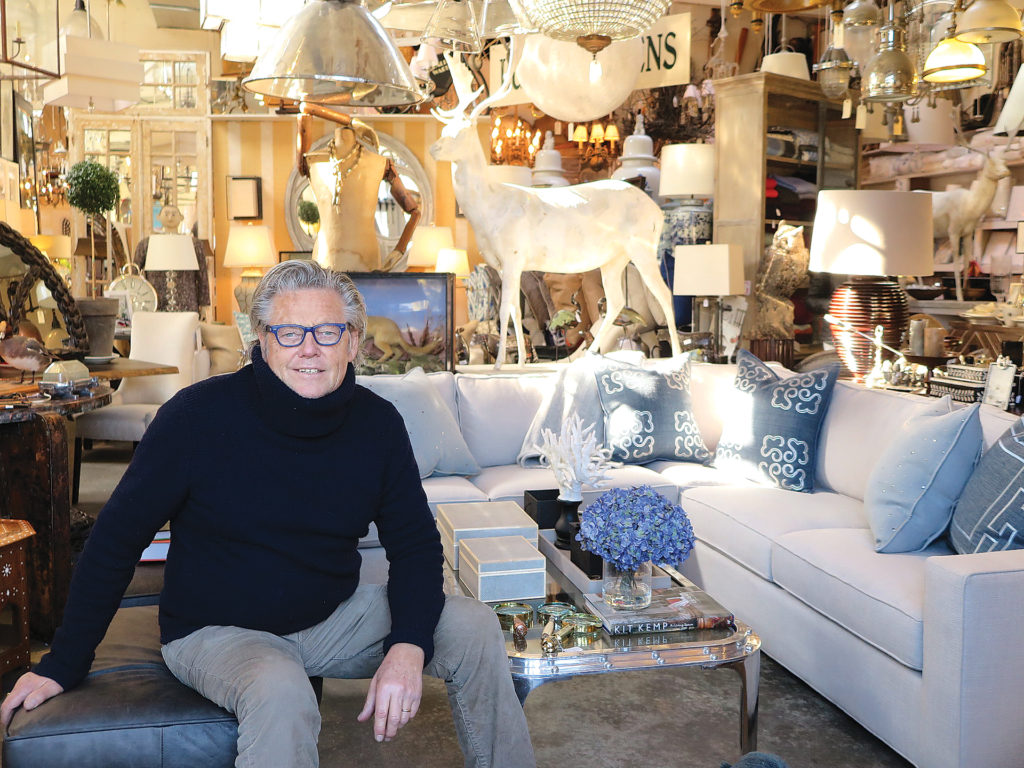 It isn't unusual for homeowners in this price bracket to buy the interior with the home. After all, a home buyer that can afford a $3 million+ home may rather throw their feet up after closing. Recently, Mead negotiated the entire house of furnishings, including accessories, before they agreed to buy the home. "Even the couples' parents told them they must buy the house with the furniture," he continued. "It's been three months and we're still helping them with decorating, yet they have never been to the store, even though they live three miles away. A satisfied customer!"
For staging he is often contacted by the real estate broker or the builder of the new house. He explained that homeowners living in their house generally don't want to pay to stage if it already has furniture in it. "Either they are in no hurry to sell the house," Mead explained, "or it is priced right to sell right away." The process is more expedient than one could imagine. They set up the appointment, Mead meets with the homeowner/builder/broker to get a feel for the home and listen to their own ideas. Ultimately, Mead will put together a plan of furniture from their inventory and explain the design. The entire process can take as little as two to three weeks from start to finish.
"Many buyers of second homes, which are the majority of the Hamptons buyers, are very busy professionals who want to see the house finished rather than trying to imagine how it might look," Mead explained. "Unlike a lot of staging companies, we design and decorate the houses. I don't particularly like the word staging. There is a lot of bad staging out here, unfortunately good builders and architects are not always good interior designers."
In terms of what his clients want, he said they want a simpler life here. It's the beach, after all. They like it less cluttered, more minimal and because decorating can be a daunting experience with homes at this scale, having it already laid out makes the purchase more exciting and efficient. And though it's a beach community, they do want to see a design that is for all seasons. Cool in the summer and cozy warm in the winter. Whether their vision is modern or post-modern, which seems to be the trend, he likes to introduce personal accessories and objects d'art – things clients like to collect, to brand the décor with their own touches. "Art, family heirlooms, and I personally like lots of picture frames with family photos," Mead continued. "Why keep these priceless images buried in your iPhone?"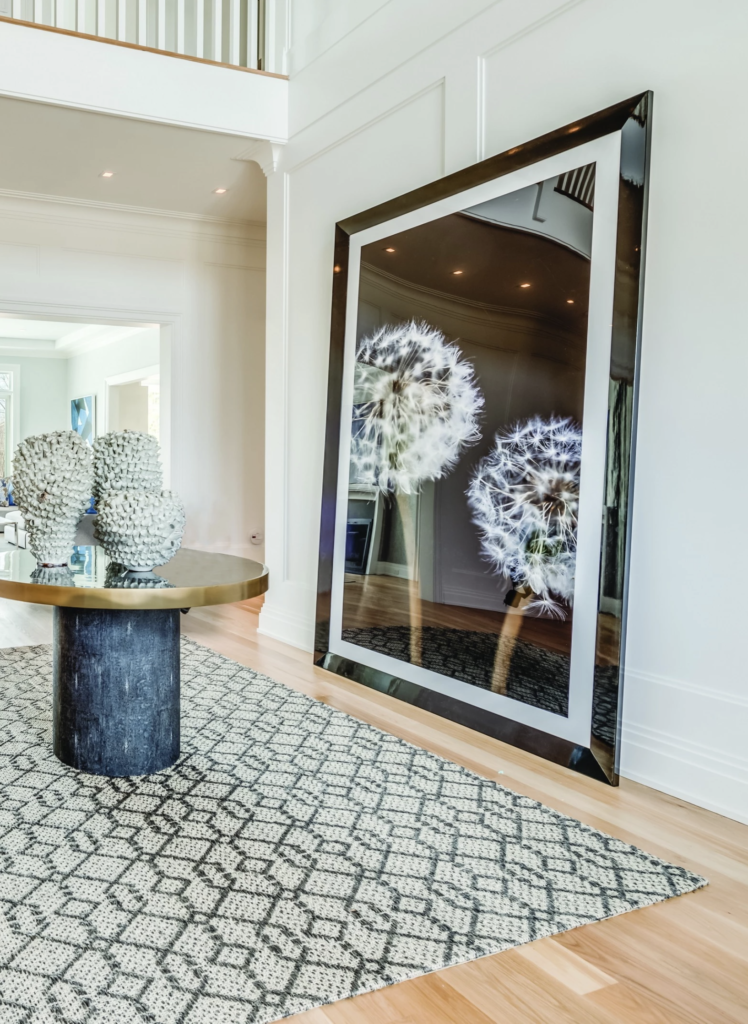 The COVID-19 pandemic has brought life back to the real estate market in the Hamptons, because of the migration of New York City families that will probably not be heading back for a while – if at all. "Before the pandemic, it was proven buying an empty house was a bigger decision, more daunting, when they had to imagine how it might be decorated. During these stressful times, it made the move more seamless and efficient. When a home is staged, layout, scale, and style is so much easier to see for their own families and how they will live in the region," he said.
With English Country Home and the outlet open seven days a week, Mead has constant social interactions with his clients, whom he says are so very appreciative that he has created a happy place for them. He explained that since the pandemic, people are spending a lot more time in the vacation home and are starting to appreciate the décor they've created rather than just weekend jaunts and a blitz of weekend entertaining distractions.
Mead and his wife, Zoe Hoare, who is his partner in the store and design business, are living the dream surrounded by beauty. "We like to go to the beach with our dog, Athena, no matter the season – even if it's snowing! I love to sit in front of the fire and read, cook, and have dinner parties, and of course I love to shop, and appreciate what people are doing and sharing with us. We are so grateful for the life we live and the work we do," he said.
English Country Home
26 Snake Hollow Road, Bridgehampton
631-537-0606
www.ecantiques.com
www.hamptonstaging.com
@englishcountryhomeny
ty@jameslanepost.com